Choose Your Best Meal Plan Dubai
There are a variety of meal plans, each aimed at specific goals such as weight loss,
weight maintenance and nutrition, muscle building and recovery.
Meal Plans Dubai – Soul Santé Café in Dubai offers a delicious and convenient solution for those looking to maintain a healthy diet with Affordable Meal Plans Dubai. Whether you're looking to lose weight, build muscle, or follow a plant-based diet, the cafe's meal plans cater to various needs. The meals are made with fresh, high-quality ingredients and are expertly crafted to provide the perfect balance of nutrients to support a healthy lifestyle. With calorie-controlled meals delivered straight to your door, you can enjoy delicious, healthy meals without the hassle of meal planning and preparation. Let Soul Santé Café take care of your health and taste buds!
More Than Just a Diet, a Path to a Healthier You
Maintaining a healthy diet is essential for overall health and well-being. Eating a balanced and varied diet that includes a variety of fruits, vegetables, whole grains, lean proteins, and healthy fats can provide the body with the necessary nutrients to function correctly.
A diet rich in fruits and vegetables can provide essential vitamins, minerals, and antioxidants that support the immune system, help prevent chronic diseases, and promote healthy skin, hair, and eyes. Eating a variety of whole grains, such as quinoa, oats, and whole wheat can provide fiber and essential nutrients like B vitamins, iron, and zinc. Healthy fats, such as olive oil, avocado, and nuts, can help to regulate hormones and provide energy.
Adequate nutrient intake also plays a crucial role in maintaining a healthy weight by controlling calorie intake and providing the body with the nutrients it needs to function correctly. Eating a balanced diet can also improve mental health by regulating hormones and neurotransmitters in the brain that affect mood, sleep, and appetite.
It's also important to note that a plant-based diet rich in fruits, vegetables, whole grains, and legumes can help reduce the risk of heart disease, diabetes, and cancer. It also positively impacts the environment, requiring fewer resources than animal-based diets.
Different meal plans are available in Dubai, each with specific goals and dietary needs. Here are some examples of popular meal plans and the approximate number of calories they may provide per day:
Weight Loss Meal Plans Dubai: These plans are designed to help individuals lose weight by providing a calorie-controlled diet. They typically offer around 1200-1500 calories daily and focus on nutrient-dense, low-calorie foods such as fruits, vegetables, lean protein sources, and whole grains.
Muscle-Building Meal Plan Dubai: These are geared towards individuals looking to build muscle and increase their overall strength. They often provide around 2000-2500 calories daily and include more protein and carbohydrates to support muscle growth.
Wellness Plan Dubai: These plans are tailored to those following a plant-based diet and include a variety of fruits, vegetables, legumes, and whole grains. They typically provide around 1500-2000 calories per day.
Corporate Meal Plans Dubai: Corporate meal plans offered by companies in Dubai can vary widely in their offerings. Some companies may provide a fixed number of calories per day (around 1500-2000), while others may offer various options.
With Soul Sante Cafe you can choose Monthly Meal Plan Dubai & 2 Day Trial Meal Plan Dubai, Our two-day trial plan allows you to try our calorie-counted, macro-forward meals before committing to a longer time period. It's important to note that a meal plan's exact number of calories can vary based on an individual's specific needs and goals. It's recommended to consult with a nutritionist or dietitian to help determine an appropriate calorie intake for your individual needs.
Why choose Soul Santé Café for Vegetarian Meal Plans in Dubai –
Soul Santé Café is a top choice for those seeking vegetarian Best Meal Plans Dubai. Here are just a few reasons why:
Fresh, whole food ingredients: Soul Santé Café prides itself on using only the newest and most nutritious ingredients in its vegetarian dishes. They source locally grown produce and use organic ingredients whenever possible, ensuring that every meal is packed with essential vitamins and minerals.
Customizable options: Soul Santé Café offers customizable vegetarian meal plans tailored to your specific dietary needs and goals. Whether you're looking to lose weight, build muscle, or maintain a healthy diet, their experts will work with you to create a plan that fits your lifestyle.
Convenience: Soul Santé Café offers meal delivery services, so you can have your meals delivered right to your door. This is an excellent option for busy individuals who want to maintain a vegetarian diet but need more time to cook daily.
Delicious and flavorful: Soul Santé Cafe's vegetarian menu is not only nutritious but also delicious and flavorful. They use a variety of herbs, spices, and flavors to ensure that each meal is satisfying and enjoyable, so you don't have to sacrifice taste for health.
Ethical and Sustainable: Soul Santé Café promotes ethical and sustainable food choices. They avoid meat, dairy, and eggs in their menu, which reduces the environmental impact of food production, and they also avoid supporting animal cruelty.
With Soul Santé Café, you can be sure that you are getting a high-quality, nutritious, and delicious vegetarian meal plan that fits your needs and lifestyle.
Soul Santé Café – Begin your fitness journey with Healthy Meal Plans Dubai!
We offer a variety of Meal Plans in Dubai customized to your dietary needs and goals:
Step 1: Choose your plan – We have a range of options for your goals, Wellness, Weightloss and Muscle gain.
Step 2: Customize – Fill in any additional dietary preferences or contact our in-house diet consultant to assist you further.
Step 3: Place your order – We deliver throughout Dubai, and have trial plans, monthly, weekly, and much more.
Step 4: Enjoy your meals – Delivered fresh, daily right to your doorstep in our sustainable packaging.
Start your health journey with us today!
What Clients Say
Our Customers are awesome!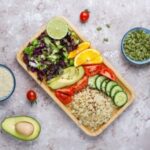 Soul Santé have been able to cater to my many dietary requirements without hesitation. I'm not an easy case but they took the challenge easily. The food is so tasty and they're always adding new items and looking for ways to change things up.
Voureen
Loving that I lost 8 pounds in the first week itself. Feeling really good, and have renewed for 3 more months
Douglas
The meals are so great, and the team is super accomodating.
Lourdes
Loving that I lost 8 pounds in the first week itself. Feeling really good, and have renewed for 3 more months
Douglas