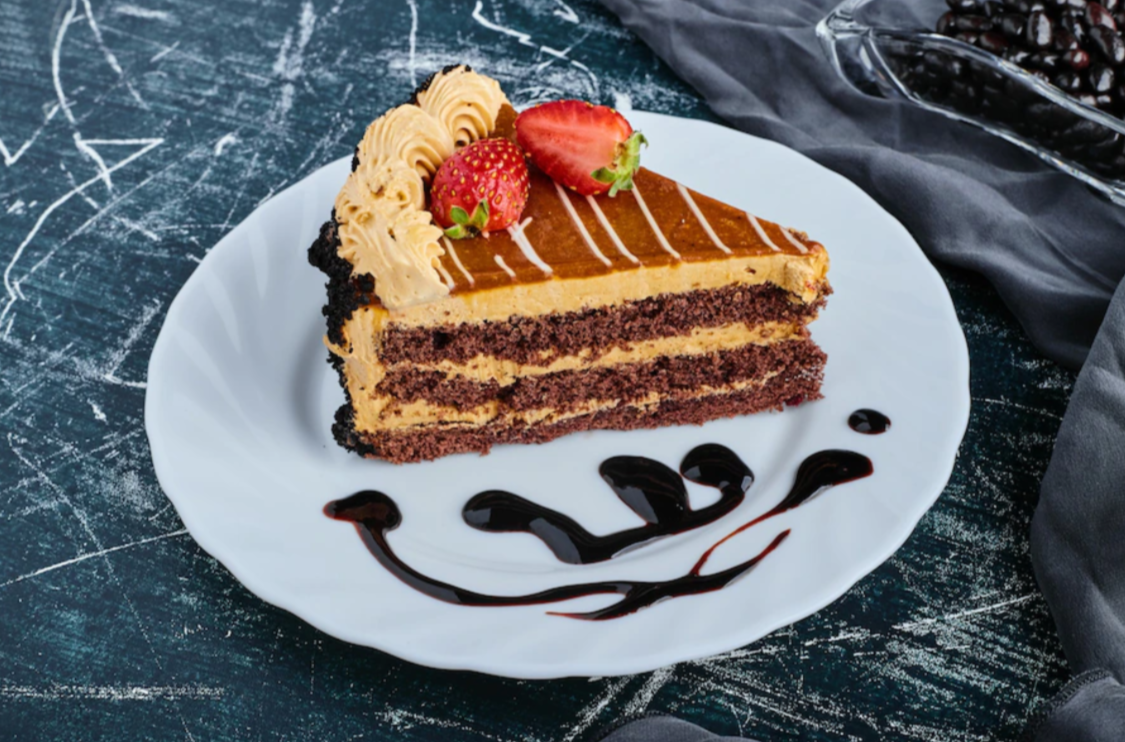 Healthy Patisserie: Vegan, Paleo, Healthy Desserts in Dubai
Including greens and fruits in your weight-loss diet is a good idea. But what if you could include dessert as well? 
If you want to reduce weight while enjoying a kick of sweetness after dinner, you don't have to compromise. Of course, it is always preferable to eat healthily, but healthy eating may not always imply avoiding dessert. 
Desserts, like other meals, are available in a healthy version. Healthy sweets are reduced in carbs, sugar, and calories and typically come ready to eat, making them stress- and guilt-free food.
In addition, one can say that desserts just complete your healthy meal plan in Dubai. It's possible to get the satisfaction of eating dessert while meeting your calorie requirement.  
Healthy Patisserie in Dubai: Exploring the Best Options
These desserts will provide happiness to your sweet tooth without harming your waistline:
1. Chocolate Cupcake
Our chocolate cupcake is perfect for satisfying your chocolate cravings. With just 2g fat content, 3g protein, 27g of carbs, and 127 calories in total, it is the best addition to your meal plan. Let your diet not interrupt the beautiful bond between you and chocolate. 
2. Chocolatey Caramel Tart
Carmel and Chocolate are a classic combination that brings your sweet cravings to an end. With 14g of fat content, 3g of protein, 24g of carbs, and 212 calories, this tart is all ready to set your mood.  
3. Cinnamon Coconut Donuts
Cinnamon in desserts? If you have not tried this mouth-watering combination of cinnamon and coconut in the form of donuts, you can't miss it. Our cinnamon coconut donuts are specially prepared to be added to your healthy diet plan. 
4. Cranberry Muffin
We often miss the authentic taste of cranberries among other desserts. Those apple tarts and pies receive all the attention. But, let's not forget about cranberries. These fluffy, delicious, and healthful muffins are ready to brighten your day. 
5. Double Chocolate Donuts
The only thing we've heard is that double chocolate makes you double. But what if double chocolate simply satisfies your appetite without affecting your weight? Our double chocolate donuts are the healthiest and contain the fewest calories. 
6. Festive Chocolates 
Is festival season around the corner? Planning to give your loved ones something unique and special? Our festive chocolates come in different ranges, featuring various designs, textures, and flavors. You can be sure to find the authentic taste of yummy chocolate in these healthy treats. 
7. Pistachio Slice
Our gluten-free, delicious, and rich pistachio slice is a must-try. This vegan food in Dubai is often preferred over other desserts. With the richness of pistachios, there can't be anything more royal. 
It just tastes like another version of chocolate fudge. This is a perfect blend of taste and health. Add it to your sweet treats today! 
8. Protein Chocolate Ball
Ever thought you could consume protein in the form of chocolate? Yes, it is true. Our protein chocolate ball is perfect for those who are die-hard chocolate fans. But, on a diet. To satisfy your cravings, these are the best addition to your diet.  
9. Protein Peanut Butter Balls
Is peanut butter a constant in your diet? To help you have a healthy dessert, we are out with protein peanut butter balls. With the richness of peanut butter and the delicate taste of chocolate, your taste buds will have the best experience.  
10. Special Chocolate Cake
Involving 8 hours of careful preparation, this cake is a perfect gift for a health enthusiast. With the authentic taste of chocolate, this healthy chocolate cake is the best to have.  
11. Special Vanilla Nutter Cake
Special Cake for your special one. Order today and experience the delicacy of vanilla. 
12. Tahini Brownie
These paleo-friendly, gluten-free, decadent, and fudgy make a luxurious chocolatey treat.  
13. The Fruit Natural Ice Cream
A real taste of ice cream is what we miss now. Our fruit natural ice cream is among the best dishes on our menu. 
14. Vanilla Nutter Cupcake
Difficult to have the whole cake alone? We have got you covered. Here we present the mini version of vanilla nutter cake.  
15. Fruit on Toast
Evening snacks with the crisp toast and richness of fruits are perfect. We have blended it together for you.  
16. Banana Protein Pancake
Bananas are a perfect fit for breakfast. Be it smoothie, raw, or pancakes. This blend of banana and protein suits best for breakfast.  
17. Carrot Cake
The color of the carrots makes this cake tempting. Our carrot cake is versatile, utterly delicious, and healthy to eat. It is among the best healthy foods in Dubai. 
18. Strawberry Protein Pancakes
Who said strawberry is just good for smoothies? Our strawberry protein pancakes are all set to clear your doubt.  
Conclusion
We wish to help everyone live a healthy lifestyle without abandoning their favorite foods. We put items on the menu only after doing a lot of research and double-checking the components. 
Keep yourself in check when you're on a healthy meal plan in Dubai by only eating the most nourishing desserts in Dubai. Order your favorite desserts today and enjoy a flavor you've never had before!